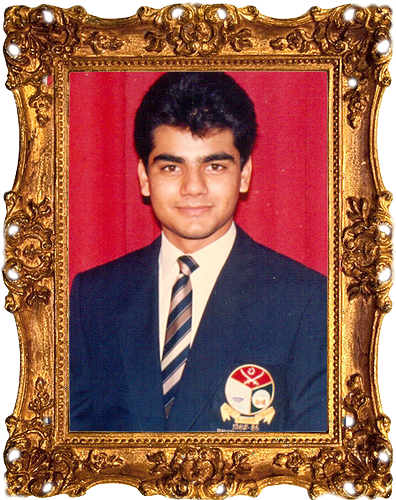 Dear Friends,
If you are visiting this website, you already know Qasim Bin Saadat, who was 'Qasim' to many, 'Qasy' to few, 'Bhaijan' to three, 'Bahadur Baita' to two and 'Major' to One.
We all were fortunate to have known Qasim Bin Saadat because he impacted our lives with his signature dimpled smile, loving humor, quiet wisdom and a phase of silent valour while submitting to the will of Allah. In his own words, "God has given me the burden which I can bear, nothing more. I am fine Thank You".
Who am I to write his story! Please come forward, and send your part of the story of the time and memories you spent with my elder brother whose death and departure is still an unanswered question in my mind. Please click here to add your comments and memories of Qasim.
Comments
Shehzeb Anjum – Daughter of Mahnur Saadat (Younger sister of Qasim Bin Saadat)
[email protected]
Cell No: 0336-031-3441 (Pakistan)
Student of Grade 7th, St. Luke's Grammar school
''Qasim Bin Saadat is my mamoon although I have never seen him except in photos. My mother, his sister told me that he loved chocolates very much and she used to get them for him at 4:00 clock in the morning from the cafeteria of Michael Sobell house – Mount Vernon Hospital. We all miss him very much.''
Mrs. Batul Mansur Khan (Qasim's Eldest Sister)
[email protected]
Cell No: 0044-7960-343-621 (U.K)
Senior Language Instructor to Immigrant Students Berkshire College, Slough, U.K.
''You have sent the ball rolling now. Lets' see who can add to this treasure trove of memories. I have got Qasim's Collection of his favorite music, maybe we can add that as a memory as well. Thanks for making this website and bringing him back to all of us and our future generations.''
Mansoor Khan (Friend, Cousin and Eldest Brother-in-law of Qasim)
[email protected]
Cell No: 0044-7740-658-977 (U.K)
Director, International Developments. Kantar Media U.K.
''A most beautiful website that you have created in memory of our dear Qasim. You have painstakingly woven a glorious tapestry of his life, using rich embroidery composed of priceless jewels of memorabilia – why am I not surprised that only you could have collected and pieced all these memories together? You've done this both with sophistication and with delicate sensitivity, and above all with a deep love of a sister for her brother. We are all truly proud of you! I thank you for allowing us to share Qasim again…''
Dr. Tayyab Zaidi
[email protected]
Professor English Literature, Karachi University.
''I just saw the wonderful book on your brother your family has put together and it revived memories. We are biding our time on this railway station of our life waiting for the bus that will bring us back.
It is painful to go through these pages. Maybe, I should be more manly. I am not. As you once said and I hear it at each separation, every separation is a little death and though the heart's grown cold it still can't come to such sights colder (ala Hopkins). There is more meaning to life than just our random desires and frustrations. I believe Qasim Bhai is 'alive' and doing well. This is not wishful thinking. I am not sure about myself. I will need to work really hard to be able to meet him over there. I need to submit, surrender and let go of a lot of things.''
Scheherezade Adeel Kazi (Qasim's youngest sister)
[email protected]
Cell No: 0097-1563-1678-72 (Dubai)
Senior Brands Manager, L'oreal Middle East
"Today I had the luxury of time, mental peace and smooth audio/video internet connection to go through the website you have made for bhaijaan. The attention to detail, the write-up and completeness of every aspect of his life as illustrated by you is beautiful. Thank you for making this a heritage for our future families. How did you manage to do all of this and the finances!!! I'm baffled by the quality of this work."
Saqib Sultan Al-Mehmood- PSP (Qasim's younger brother-in-law)
SSP Sindh Police Service, Pakistan
"I am impressed by the quality of work, novelty of ideas, artistry of emotions and choice of music. All that made it a piece of art. Website with music is a new thing for me too….."
Najmi Kamran Khan (Aunty – Qasim's Mother's Sister)
Cell No: 0044-7544-626-613 (U.K), 0344-403-4750 (Pak)
Professor of English Literature and English Language Coordinator in Britain for Non-Native Speakers of English
"Qasim my dearest darling nephew you will always be missed, you were such an integral part of our lives, Life remains incomplete with you not being around. I again start to grieve when I think of you, never far away from the dull ache in my heart. May you rest in peace in the serenity of heaven. Ameen."
Mrs. Khalida Saadat (Mother of Qasim Bin Saadat)
Professor of Literature at St.Joseph's Govt. College for Women – Karachi.
President – Nishan-e-Haider Alma Mater Society.
Cell No: 0306-2043-589
"Qasim, my cherished son, will live forever in our memories through this website. I know we will nurture a relationship with Qasim beyond this world even. You have given another life to Qasim through this medium.
One corner of my heart will always have a vacuum, an emptiness and a sadness which belongs to Qasim.
I pray that may we meet Qasim in the world Hereafter. I wish that all your prayers and desire are granted and your soul is ever refreshed by his wonderful and happy memories. May you lead a full life with your loved ones. This site symbolizes your feelings for your brother. May God bless you with all the happiness of mind and heart while watching Maya and Ghalib grow up."
Omar Khalid (a friend from cadet collage hasanabdal)
[email protected]
Cell No: 0345-5055-625
"To be taken back in the memory lane and be reminded of things long forgotten is very rare. This amazing memory of Qasim has done the rare thing. Going through the website and memories stored in these old cards, has not just reminded us of Qasim but of many names who left us in the last 25 years. May all of you be blessed and are near to Allah. May you be exploring the unknown and enjoying yourselves. Till we meet again. And to those who are here, enjoy your loved ones and be happy, it is a short life.
Qasim, we will always remember you as a full of life person who we all loved. Stay happy where ever you are. A big CHEERS. Omar."
Usman Raja
[email protected]
Cell No: +1-905-6410-519
"Words run very short of what I would want to convey. He was that one little source of happiness and joy in our lives at CCH. Very friendly with amazing wit and sense of humor. May Allah Bless your soul, miss you my friend."
Ahsan Masood Khan
[email protected]
Cell No: 0321-8466-463
"Shehzeb dear, your mama is not the only one to whom your mamoo Qasim owes chocolates.
I was his entry mate at Hasan Abdal, his dorm mate in matric and his room mate in 2nd year. I used to come from Saudi Arabia with bags full of chocolates and it was your mamoo's job to steal them, eat them himself and distribute them to the rest of the people in our entry.
Even when I tried to make a pact with him by offering him a chocolate a day he would very humbly accept it and still carry on with the stealing.
There is not a single reunion of our entry in which my chocolates and their robbers are not mentioned and Qasim's name tops the list. I try to pray for Qasim in my prayers whenever he comes to mind (which is often). There are more of our friends from the entry who have joined him in heavens now, may Allah bless them all and I usually pray for all of them but my prayers are a lot different.
I usually say, "O Allah forgive them for everything they did wrong on this earth. They were humans and You have created us humans full of folly & it is only You who can forgive but when You are forgiving them, keep the chocolates matter asides till I arrive & lets discuss that then 😉
It is a pity I did not get to see Qasim after Hasan Abdal as he was in AMC and I was in Faisalabad. I loved your mamoo as a friend, a brother and an entry mate. But I assure you I am not the only one. Every single one of the 28th Entry CCH loves him as dearly as I do. I just had the pleasure and the honor of being very close to him for a couple of years.
There are so many stories that I would love to share but cannot because your mamoo would kill me for it once I get to meet him up there. "Bacchay ko kharab krta hai?" would be what he would say and then add a "Shabaash, shabaash, good job" under his breath while he winks at me with his devilish smile.
Khalida Auntie, your nani, has said she has an empty place in her heart. I cannot even begin to imagine a mother's feelings at such a loss but Qasim left an empty place in all our hearts for the rest of our lives. Or maybe its not empty. Its filled with the memories of him we cherish.
I would sure love to come back here from time to time to write of him and to read what others have to say and I'll surely be posting this website on the 28th entry facebook page.
In the meanwhile, if you are ever in Lahore, do remember that you still have a mamoo here. You have my phone number and email. Use it if you are here.
Come to think of it, you have around a hundred mamoos spread all over Pakistan and from Australia to South Africa and Canada and I am just about to go tell them of this page. I am sure they will all love to be here. Stay blessed!"
Ali Andrabi
[email protected]
Cell No: 0061-4222-863-74
"An excellent site took me back to those lovely years when we had very little to worry about and have fun all the time. Thank you for composing such an eloquent chapter. Qasim was one of his kind, his personality exactly befits Allama Iqbal's description of youth. He was "Qabeele Ki Ankh Ka Tara"."
Faisal Iftikhar
[email protected]
Cell No: 0333-2225-941
"I was Qasim's entry fellow at hasanabdal and his partner in many dares.he was the life of our entry,always with a naughty plan..never a dull moment when he was around, we believed the world revolved around him..that was scale of his presence. we have lost a few of our entry mates but a gathering is never complete without his name coming up and we all laughing at one or other of his pranks..He has left a profound imprint on our lives. People like Qasim are not born everyday..no wonder they are dear to Allah and he wants them back quickly..even he cant live without him…"
Khan Arshad (a friend from cadet collage hasanabdal)
"It just looks like yesterday when i was with him and we were studying and doing hall gulla. When he first has symptoms of pain and we all said yaar kuch bhee nahi we all were sooo wrong miss u Qasim"
Anjum Anwar Qadri (a friend from cadet collage hasanabdal)
"Qasim bin Saadat….first memory….22nd April 1981, Jinnah Wing, CCH. His bed and Cupboard were opposite to mine in the same dormitory… First week end… my parents came to visit me and Qasim asked my mother that my parents are in Karachi… So who will bring cake for me and my mother gave it to him instead of me….my mother still remember that day…and then all the mischievous activities … Mahfooz Sahibs deliberate avoidance of giving any punishment to him….as he told later on after death of Qasim that "Now I know why I had a soft corner for Qasim"….then he visiting my house in Kamra on first "phutta" …and endless memories…then Army Medical College….he being the leader of all activities in the College… And then his last day in College when he met everyone… I remember he met me in front of Qasim Coy… As usual he was in jolly mood…. Cracking jokes etc… That is last memory of him in my mind…and that is the pic of him in my mind…a jolly, lovely smiling personality…and I would like to keep it that way!!!!"
Iftikhar Ahmed (a friend from cadet collage hasanabdal)
"May GOD blessed his soul in eternal peace, nice fellow"
Aamir Shahzad (a friend from cadet collage hasanabdal)
"Who can give me even near to appropriate set of words to describe the loss of QBS unexpected departure? :("
Qasim Muhammad Ahmed (a friend from cadet collage hasanabdal)
"Lots of prayers for QBS, I still carry golden memories of his sayings. He visited me at my cousin's home (Nasir son of Gen Nasim) when I had my knee operation. Andrabi and Nadeem Irfan accompanied him, he shared lots of jokes in a short time, and it feels like yesterday. We miss him a lot, he signed my music club certificate."
Saeedullah Shinwari (a friend from cadet collage hasanabdal)
"May Allah rest his soul in peace, what a friend, still miss him a lot"
Assad Khalid (a friend from cadet collage hasanabdal
"May Allah shower His Special blessings on Qasim"
Ahmed Tipu (a friend from cadet collage hasanabdal
"My beloved class mate, always smiling, miss you."
Major Saadat (Qasim's Father – Abboo)
[email protected]
"QASIM BIN SA'ADAT
2nd of June'1991-1910 hrs.
MICHAEL SOBEL-LONDON
Oh ! My only son, Qasim ! Where have you disappeared at a tender age of 23? 'ALLAH' must be happy to have you in heaven to charm and amuse your inmates there with your smile and banter.
Baitey, your kind-heartedness, selfless comradeship, tickling sense of humour, ingenious obedience, respect and love for all are your Abboo's only asset to recall.
While enduring long & painful sufferings of your terminal sickness at London and bearing it all with a smile and then innocently asking," Why me Abboo ?" Bravo, my son. This simple question moistened your Abboo's eyes. He turned away his face helplessly as he could not answer you. Maybe, my son, Allah deprives disdainfully haughty and erring parents or siblings of their most beloved one in their life time as retribution.
Bearing you on my shoulders to your final destination on that fateful day was the heaviest burden that any father can experience. May Allah rest your young & innocent soul in heaven. Aameen.
Your ever loving sisters are married and going through the life with their children and husbands but missing their brother, cousin, Mamoon Jaan and brother-in-law.
Your Ammi & Abboo have been together for the last 48 years through thick and thins. But "QASIM HOUSE" is a vacuum where everyone is welcome by your ever smiling face in the portrait hung at the front wall.
I am talking to you Qasim through the courtesy of Seemy, your most loving sister.
WE ALL LOVE AND REMEMBER OUR QASIM.
Abboo"
Ali Karim
[email protected]
Cell No: +1 613-218-7564
"I came to know Qasim very intimately in AMC, as we shared the same company. He was a very courageous soul and had great initiative. You always found him standing on the right side in matters of challenge and controversy. A great human virtue. May Allah bless him and give strength to his family and friends to bear this loss. Ameen."
Maya Sultan
[email protected]
Cell No: +92 317-0566-906
"April 14th, 1912… Passengers, captain, crew, staff, and Thomas Andrews himself; impotently watched the once deemed "Unsinkable" Titanic sink to its culmination in the depths of the icy cold waters of the Atlantic Ocean taking down Her grandeur and glory.
September 11th, 2001… Americans and the rest of the world watched helplessly while two planes rammed into the World Trade Center, a symbol of the economic monopoly of the Americans.
June 2nd, 1991… Qasim, his parents, doctors, and nurses at Michael Sobell's House for Cancer Patients all watched defenselessly while cancer played its final card on the immaculate beauty and physical fitness of this once envied athlete and charmer.
Everyone had done everything in their power to extricate Qasim from his suffering, but in the end it was God and His decisions and how fate pulverized Qasim to his eventual end.
Qasim lay writhing in pain at a relative's house, in England. His father stood beside his bed, Qasim turned towards him and asked. "Why me, Abboo?" His father contemplated the question for a while, but failed to answer his son and left the room with a despondent look on his face.
Upon hearing this question, Qasim's father decided to call a faith healer. The faith healer was a Nigerian British Muslim, Dawn. Qasim sat on a sofa, by himself, while Dawn sat on a chair in front of Qasim.
"Ask me a question, Qasim", said Dawn.
"Why me? Why has God chosen to cut short my life?", asked Qasim.
Dawn kept looking straight into Qasim's eyes, and after a few seconds or so, started narrating an event from the Islamic history:
"So Qasim, now listen to me carefully. The Prophet Khidr was headed for a journey when Moses came and requested Khidr to let Moses accompany him on the journey. Khidr agreed but told Moses not to ask any questions. Moses agreed and they began their journey. During their journey, Khidr saw a little boy drowning in a lake, but didn't bother to save him; Moses questioned Khidr and he reminded him that he isn't supposed to ask any questions. Moses apologized and they continued until another event took place and Moses again questioned Khidr. This time Khidr told him that if he questioned him one more time, he would set Moses apart from his path. Moses did not fail to ask Khidr a third time, and Khidr stopped to answer all of Moses' questions. Khidr started by explaining why he let the little boy drown and that was because…"
"…the boy would bring disgrace and disappointment to his very pious parents, and so to save them from the discomfiture the future withheld, Khidr let the boy drown.", Qasim completed.
Dawn kept looking deep into Qasim's eyes and kept listening until Qasim completed the story Dawn had begun.
Qasim had understood Dawn's intention of narrating this story which was for Qasim to make peace with his God and fate, and have faith in God that whatever was written in his destiny, was for his own and other's good, but that wasn't wholesome enough to convince Qasim because he had a counter-question to this.
Qasim began, "If it is good in every decision that God takes, then what rectitude is there in not only giving me death but in such a brutal way? What possible disgrace or discomfort would I have brought to my parents or to anyone else in this world? I have also lived life; few but a wholesome 23 years and my life wasn't going to be much different in the future than how it was in the past. So Dawn, please answer me when I ask what could I have possibly done to deserve this ruthless and vicious cessation?"
Dawn kept listening to what Qasim had to say. He got up from his chair and sat down on the carpet as if a pupil had sworn allegiance to his guru. He touched Qasim's feet and kissed his hands.
"May God bless you, Qasim", Dawn left the room to face Qasim's relatives.
Qasim's parents came forward in hope that maybe Qasim was in accord with himself and His Master, now. The faith healer joined his hands and stood bent down towards them and said,
"I came to answer Qasim, but instead I'm leaving with a question", and Dawn left.
When someone endures a painful fate then probably a distinctive connection between God and His creation is also established. Qasim's physical anguish didn't lessen, but he connected with his God and made a truce with Him to great extents.
Qasim had progressed from 'feeling' to 'thinking'…
"Life is a comedy for those who think, and a tragedy for those who feel"
-Oscar Wilde
Days went by, and Qasim kept living, watching, and waiting. Every passing second Qasim thought he was breathing his last breath. His anxiety of imminent death was unfathomable now. Nonetheless, there were days when Qasim felt free and as if 'on parole'.
Qasim always had a fondness for gadgets, ones which would do his work for him and ironically enough, he was now at that stage of his disease where he was wholly dependent on others, but his freedom, power, and control in terms of physical movement was precious to him and so he was given an electric wheelchair, which he could manage himself. It was the 1st of June, Qasim sat in his wheelchair and drove to the top of the hill where Michael Sobell was located. It was twilight time, the sky was a beautiful and uniformed mixture of warm purple, yellow, orange and blue. The horizon was serene with the occasional chirping of summer birds returning to their homes.
Qasim's mother followed him quietly thinking that he wouldn't notice, and while Qasim took in the most of the last sunset of his life, his mother stood behind him. Qasim looked over his shoulder and asked, "Ammi, is this what Paradise is going to be like?…"
The much-awaited transition had occurred. He had probably found an answer to all his questions, his pride had now given way to graceful acceptability of God's decree. Qasim was now prepared to meet his Creator.
Human pride, courage, determination, optimism, hope and tenacity all make us believe that we are in control and have the power to make every wrong right. "Hope" is often a sensation that lets most of us down, often leading to a pitch dark whirlpool of confusion and despondency. But, man being the elevated creature that he is referred to, imagines himself invincible and omnipotent, often tends to forget that he too has a Master and Creator he needs to return to and He decides our fate. In the end, it all comes down to how fate plays our game of life, and how God makes us helplessly watch while He commands the hidden edge of the iceberg to shatter a Titanic to pieces; or a vacuum filled plane pulverize WTC to a pile of insignificant debris…or bring upon an ignoble end to a beautiful life that was Qasim Bin Sa'adat."
Sadaf Adnan
[email protected]
Cell No: –
"Qasim bin Saadat or more correctly, Bhaijan was just someone I'd heard about from Isma.
Having read the comments, I feel compelled to write something. I may not have known him but the cherished memories the absolute love of his near and dear ones for him fills me with humility. Death has desensitised me, my father's departure anaesthetised me to a point where the most I could feel for anyone's loss was just a dull ache in the far region of my mind.
My grief was the greatest.
When I was reading these comments, I realized how delusional I was. I may have been reading words but could hear the muted screams hidden behind them, the bottomless void left behind in the wake of your departure, still gaping large and wide. Today, I understood Khalida aunty's hollow laughter, sadness always lurking in Isma's eyes and uncle's hearty manner, perhaps a fragment of his time with his only son. Yet, I feel this still is just the tip of the iceberg.
So Isma's BHAI JAN,I'm sure you are smiling down at this-nobody- to-you's struggle, resplendent in the company of your father and glorious in the un fathomable love of your family. For you for sure are one lucky fellow."
Mr. Babar Ali Khan
(U.K)
''Salam Apa, trust you are well!
Just visited the website that was created in the memory of Qasim bhai MashAllah, it's so elegantly created and evokes so many cherished memories.
It was difficult not to get emotional while reading and watching it….
May Allah bless all those who are no longer with us anymore with jannat ul firdous, Ameen.''